Zimbabwe is a nation of approximately 12,000,000 people covering an area slightly larger than the state of Montana. From the rugged Zambezi Valley in the north and west to the arid bush of the lowveld in the southeast, Zimbabwe offers some of the finest hunting on the continent. An excellent road network and ready access to charter aircraft make a multi-area hunt in Zimbabwe feasible and can add to success in hunting your desired bag of trophies.
Despite severe economic hardship over the past several years, wildlife remains a vital asset. The visionary game management practices established decades ago are still largely in place.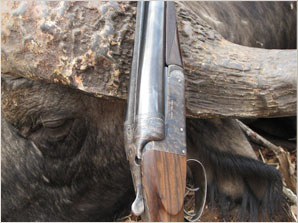 Additionally, professional hunters in Zimbabwe are considered among the finest in the world. Rigorous training, lengthy apprenticeships and stringent testing ensure that only the most dedicated and competent earn the coveted PH license.
Guns and Ammunition
By law, a rifle of .375 caliber is the minimum for thick-skinned dangerous game animals such as elephant, buffalo, and hippo. The .375 H&H is an excellent all-around choice for a buffalo and plainsgame hunt. For a dedicated dangerous game hunt, one of the .416's is a good choice. Light calibers from .270 to .338 are sufficient for plainsgame. I recommend heavy for caliber premium bullets from manufacturers like Nosler, Barnes, Swift or Woodleigh. A good quality scope is essential, especially on your light rifle. Lion and leopard are generally shot in poor light and require a scope that transmits maximum light.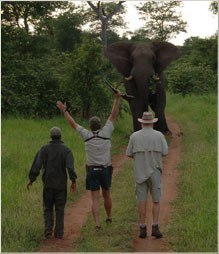 Hunting Season
Traditional safari months in Zimbabwe are May to September. The nights and early mornings can be quite cool in June, July and August, with temperatures dropping into the 40's. However, afternoons are generally comfortable, with temperatures in the 70's and 80's with very low humidity, making for excellent hunting weather.
Wet season elephant hunts are conducted from February to April. This can be an excellent time to find big bulls leaving the parks in search of new forage. The weather is warm and humid with rain showers most days. Also at this time, the bush is very thick and green with short visibility, making hunting both challenging and exciting.
Clothing and Equipment
2-3 sets of dark khaki hunting clothes are all you'll need, as laundry is done every day. A light fleece jacket is a good idea for cool mornings and evenings around the fire. Please keep in mind that the use of camouflage clothing is prohibited in Zimbabwe, so please eliminate camo items from your hunting kit for your safari. A well broken-in pair of hunting boots is essential. Bring your camera and plenty of batteries to record your safari. Other useful equipment includes a wide-brimmed hat, a cartridge belt, folding knife and a small flashlight. Good quality binoculars in 8x32 are a good choice for general African hunting.
Medical
Consult your physician well before your safari regarding your particular requirements. You should consider innoculations for typhoid, tetanus, polio, and hepatitis. Also, a course of anti-malarial medication is strongly recommended. A steady regimen of walking for several weeks prior to your safari will prepare you for long stalks, particularly for buffalo and elephant, and will add to the enjoyment of your hunt.